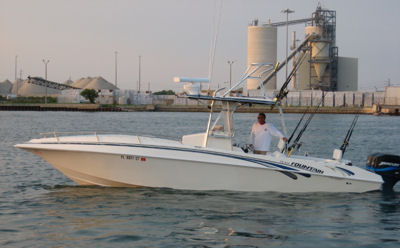 Capture Sportfishing is located less than 1 hour due east from the Orlando attractions. We are based out of beautiful Port Canaveral at Cocoa Beach- Orlando's nearest beach . In addition to being one of the world's most productive fishing grounds, it is the home of the Kennedy Space Center and the Space Shuttle. Port Canaveral is also the home of both of the Disney ships and the world famous Ron Jon Surf Shop. Miles of beautiful beaches and blue water make this a true vacation destination for beach goers, sun lovers, and sport fishermen.
Within minutes, we can be in the beautiful blue waters of the Gulf Stream fishing for Grouper, Snapper, Amberjack, Shark, Tuna, Marlin, Wahoo, Dolphin, Sailfish, and Kingfish. In shore (within a few miles of the beaches), we fish for Tarpon, Cobia, and Tripletail in the shadows of the Kennedy Space Center.
For shallow water anglers, we have the Indian River Lagoon which includes the well known Mosquito Lagoon. These fertile waters offer some of the best Redfishing anywhere on the planet. The Trout and Snook fishing are a year round staple for fishermen in this part of the state with several world records taken within a few miles of the marina.
Because of the diversity of fishing available to us, we offer two boats and crews to accommodate our anglers. For offshore and near shore fishing, we have a tournament rigged 31 foot 60 mph Fountain powerboat equipped with GPS, fish finders, and 69-mile radar. This boat is a proven tournament winner! For our skinny waters, we offer our l8 foot Maverick Mirage II technical poling skiff. Able to get into and fish waters that are just inches deep in the lagoon system. Seeing a giant Redfish in 8 inches of water, stalking that fish and making a perfect cast is enough to make even the most seasoned angler's knees shake!!
We are true experts in all facets of saltwater fishing with an emphasis on big game on light tackle.
We host experienced fishermen and complete novices with the goal of catching a lot of fish and making unforgettable memories. We must be doing something right, as more than half of our customers every year are return clients and their friends and families.
We are available for most tournaments from Jacksonville to Key West. We can customize your fishing experience to be a once in a lifetime adventure!!
Capt. Dusty McGee has been a licensed captain and merchant marine and spent a great part of his life in Marathon,Fla. In the Middle Keys. After Hurricane Andrew, he and his wife Annie moved to Cocoa Beach where they live year round. His style of fishing can best be described as fishing for the biggest gamefish on the lightest tackle. He prefers to chum with live baits and bring these gamefish to the surface for incredible top water action. Truly an opportunistic fisherman- he is always prepared to adapt to the changes that happen from day to day with different species of pelagic fish he targets.